It took me a while, years really, to grasp this concept of what it really means to be a child of God. This shouldn't be a surprise, because as I look back many things have taken me years to fully grasp! But this concept, of being God's child, really hit home one day for me. Just a random day. It was after my dad died, which was a time when God really took me by the shoulders and said PAY ATTENTION in as loud a way as He has ever spoke to me. I needed to hear it, all of it.
On a random day I just stopped thinking of myself as the kid of that alcoholic, the one with the secret life that I had to keep from all my relatives and friends, the one who didn't believe she was worth anything because of everything that was said and done to her growing up. Suddenly, all I had to do was look up… and I got it.
It didn't matter if an alcoholic raised me, it didn't matter if our entire house was full of secrets, it didn't matter if I had made some big mistakes… I simply looked up, and saw my worth. I wrote about this in my book Father's Eyes years ago, and recently I've started grooving on the words of John, and had it hit home once again. Especially in John 1:32: "Dear friends, now we are children of God," and in John 1:31 "See what great love the Father has lavished on us, that we should be called children of God!" I love the exclamation mark there. YES! Children of God indeed and it feels so good to say that, to realize what it means.
So these words were an inspiration for me this week in creating some art:
 ("All Who Receive Him" print available here.)
 ("Dear Friends, Now We Are Children of God" available here.)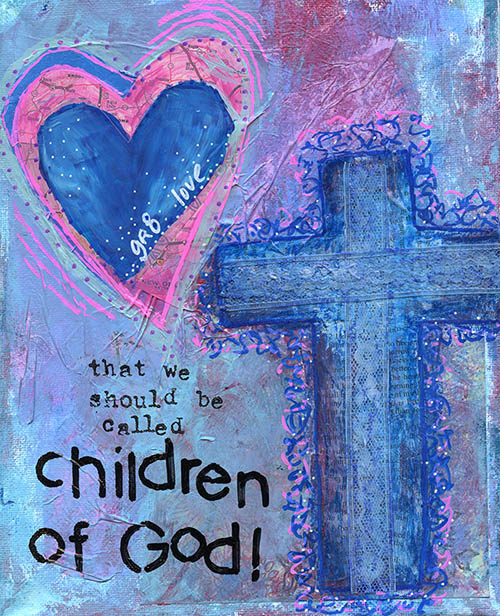 ("GR8 Love, That We Should Be Called Children of God!" available here.)