I love my crockpot for a lot of reasons. I can buy cheaper cuts of meat, I don't need to turn on the oven and heat up the whole house, and it's really easy to use. Crockpots get a bad rap because people just toss stuff in and everything tastes the same when you do that, but if you have a few good recipes, it doesn't have to be like that.
One recipe I try and make often is meatloaf because my husband really loves it. I've made all different kinds of meatloaf, from the more "gourmet" type with special cuts of meat and fancy mustards to the basic. This recipe I found is very basic, but since you make it in the crockpot it's also very convenient. It's also a favorite in our house, and who am I to argue when hubs loves a recipe? The other day it was really warm out. One of the final few days of summer. I couldn't bear to turn the oven on for fear of warming up the whole house. So instead I made this in the crockpot.
Now, I also wanted to make potatoes. We just had a bunch of them and I wanted to use them up. I decided to put them on the bottom of the crockpot, all wrapped nicely with foil. Cooking baked potatoes in the crockpot is pretty easy that way. They steam up nicely and cook all the way through. In this case, they also help lift the meatloaf up so the juices can drain down.
First, I spray the inside of the crockpot. Easier to clean that way. Then, I poke holes in the potatoes and wrap them up nicely in foil.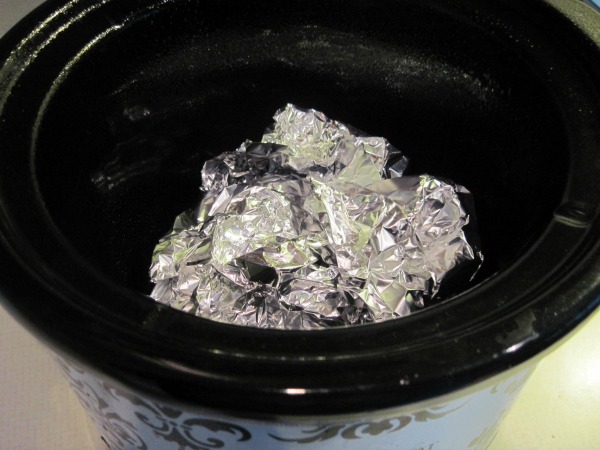 I also put some foil over the top of the potatoes.
Now here's what you need: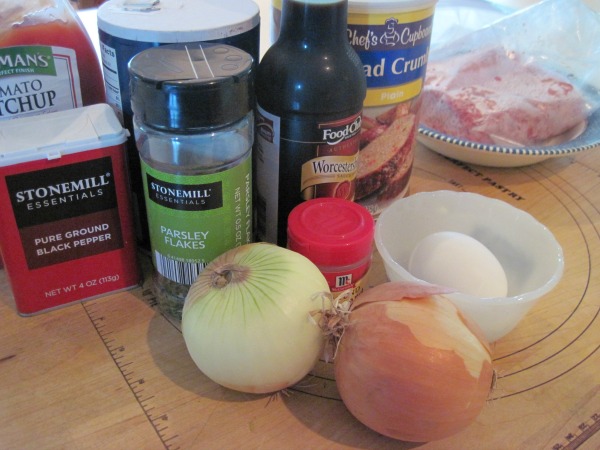 1 1/2 pounds very lean ground beef
1 egg
1 cup finely chopped onion
1 cup plain bread crumbs
2 teaspoons prepared mustard
1 teaspoon Worcestershire sauce
1 teaspoon dried parsley flakes
1 cup ketchup, divided
You mix everything in a bowl and then form a loaf. Squirt half a cup of ketchup on the top. Then you put it on top of the potatoes in the crockpot and cook on high for 4 hours or low for 8.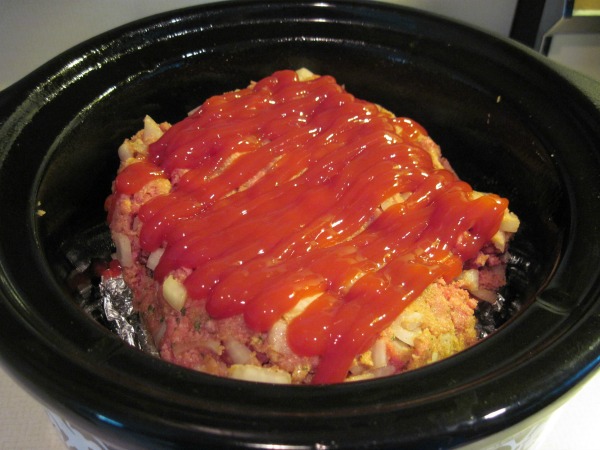 It looks and tastes delish when you're done: