Years and years ago, during one particular rough time in my life, I wrote down a goal. I was sick of being stuck in a pattern, which for me was trying to get approval from my corporate environment.
The company I worked for was filled with leaders who berated, insulted, and publicly humiliated people in order to "motivate" them. There was no respect, and people were trying to throw each other under the bus. I don't thrive in an environment like that. I try my best to blend in, just wanting so much for people to like me, and when people accuse me of things I don't do the obvious, which is defend myself! It's not a good quality of mine. I get lost in environments like that, where negativity and hate seem to be present at every staff meeting.
I was so, so sick of what I was doing just to please people. It wasn't who I was. When I feel like that, I turn to God, sometimes with peace and sometimes with anger. And this time, I'm ashamed to say I was mad at God. Mad at Him for not protecting me in a bad situation. But guess what? He was, I just didn't know it. He was trying to move me out of that situation, and I wasn't listening. I think we can be like this with God sometimes. We get upset with Him when we have free will, when we know a situation is bad for us and we stay there anyways. Where would I be without His patience and love?
Want to know what God did for me? After I took my anger to Him, accusing Him of not caring about me? I wrote about how sick I was of myself and this pattern I was in once again. I wrote in my diary that I wanted to be married, I wanted to write a book, and I wanted to go to Paris. I hadn't made time for these types of things in my life. I worked like dog, so many hours a week, and didn't make time for a relationship, or time off, or time to do what filled my soul. I wrote those three things down, and within a year I had done all three. I left it to God, although I didn't realize I was even doing it then. It wasn't intentional. I was just too weak and battered emotionally from the things that had happened to me. I gave it all to Him because I was "done."
And God blessed me! He blessed me despite my terrible habit of being angry at Him when my life was bad. Despite my stupid choices. Despite the circumstances. Now, what's the lesson? If I would have just willingly given Him these things, instead of giving them up when I was just too tired and broken to deal with them, how much easier would this process have been for me? How much easier would it have been to let go and trust the still, small voice within me?
We live and learn. I'm always learning.
One thing that has stayed with me is this concept of making your vision, your goals, intentional. I wrote them down. Even in the midst of my pain and heartache, I wrote them down. I don't think that's an accident. I knew that's what I wanted for my life. I knew I wanted to meet someone special and go to the place I'd always dreamed of, and finally, once and for all, live my purpose and write that book. I wrote them down, gave it to God, and then did something about them. I joined an online dating service and I started editing a draft of my first poetry book. Both those things would turn out to be prophetic for me.
My experience with online dating didn't just introduce me to my husband, it gave me a platform in which to minister to other people. One reason I enjoy writing about relationships today is because I understand what it's like to struggle, to put work or something else above relationships, to feel lonely, and to finally figure out what it is you want in your life. I wrote about my experience with online dating, became an online dating consultant and helped daters write their profiles, and have continued to write about relationships in some form for a decade. It is my passion. Helping people, encouraging them, has become my ministry. God lifted me from that negativity and blessed me in such a way that I was able to write about my experience and help others. Has great is that?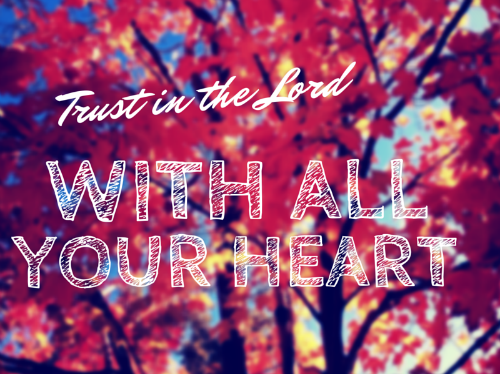 People used to say to me all the time, "let go and let God." I really don't like when people spew phrases at me like that without talking with me, without finding out what's really going on with me. I know they were probably trying to help. But I didn't understand what it really meant to "let go" and trust God. I thought I was. I didn't get it until I was broken down and had no choice but to give it up. That's when God could finally get through to me.
If I could choose a phrase that sums up the whole "let go" thing for me, it's this:
Trust in the Lord with all your heart and lean not on your own understanding; in all your ways submit to him, and he will make your paths straight.
– Proverbs 3:5-6 (NIV)
There's so much meaning in those few words. It's about giving up what you think is the right thing and intentionally letting God take the driver's seat. I love the way this passage ends: "he will make your paths straight." Oh yes, He will. He did.
If you're where I was right now, I suggest this: ask God to take from you the burden you're struggling with. Ask Him to show you a different path, His path. Ask Him to help you put away your ego and allow Him to lead you.