I never thought I would like pumpkin soup. As a kid, I didn't care for pumpkin all that much. Funny how your tastes change. This soup has evolved… I kept changing it and changing it and now I think I'm ready to share it. I made this yesterday for the Packer game. We played the Bears, and I figured the orange color of the soup would help us win. (It's a fan thing, it doesn't make sense. Don't try to figure it out!) However, we did beat the Bears, so I'd like to think the soup had something to do with that. 🙂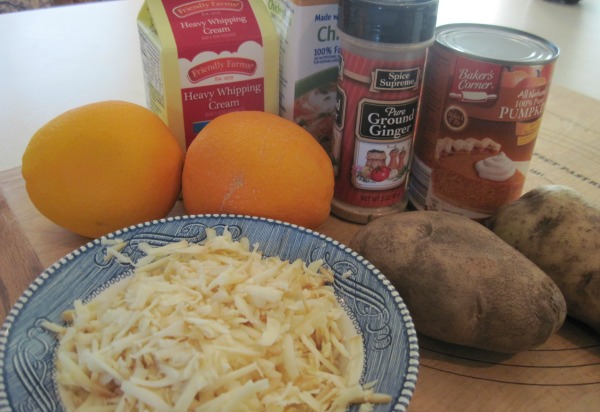 This soup has some interesting ingredients. Pumpkin (of course), orange juice, smoked Gruyere cheese, and Sherry are among them. It's easy to do, the ingredients are fairly cheap (you'll see I bought all of mine at either Aldi or Walmart) and it's cooks in under an hour.
Pumpkin Potato Soup
1 can pumpkin (not pumpkin pie filling)
3 baking potatoes, peeled and diced
1 T. ginger (the cheap, powdered kind)
2 yellow onions, chopped
4 cups chicken stock
1/4 to 1/2 cup orange juice (I usually squeeze about two)
1/2 Sherry (the cooking kind, not the expensive kind)
1 cup cream
6 ounces smokey Gruyere cheese (I got mine at Walmart)
1 t. salt
1/2 teaspoon pepper
3 pats of butter
How to Make It:
Heat 3 pats of butter in a Dutch oven. Cook the onions until translucent. Add the pumpkin, potatoes, and ginger. Cook for 3-5 minutes, until heated through.
Add the chicken stock, orange juice, and sherry. Bring to a boil and then let simmer for 20 minutes. Potatoes should be soft.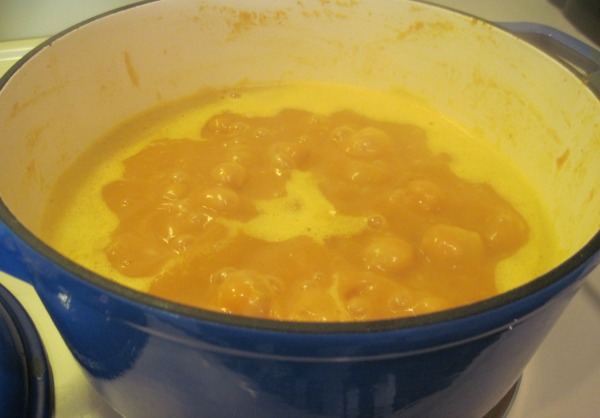 Add the cream, salt, and pepper. Heat it through, about 5 minutes. Add 4 ounces of the Gruyere cheese, making sure it is melted throughout the soup.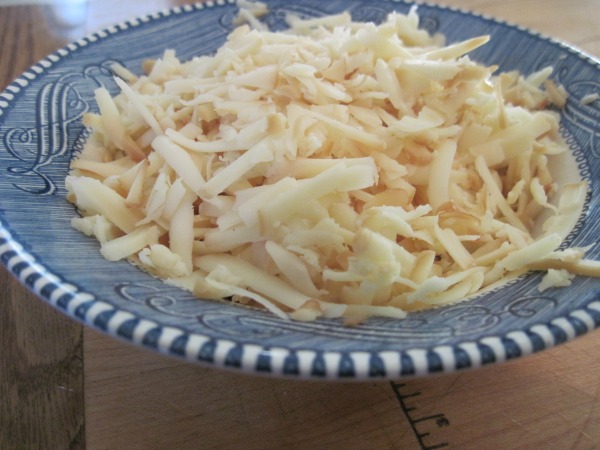 Remove from heat and serve. If you've got some nice crusty French bread, it goes well with this. I picked up a baguette at Aldi and it was perfect with this.