After my dad died, someone told me that "that first holiday will be really rough, so prepare yourself for it."
"That first holiday" after he died was Thanksgiving, as it turned out, and was made even harder because many times his birthday fell on that day. The holiday is forever tied with thoughts of birthday cake and pumpkin pie.
Even now, I think of him on Thanksgiving. This fifteen year anniversary of his death has made me reflect on him a lot, and not just him, but the people like him. The people who were perhaps abusive. Who caused harm. Who tried to ruin another person's life. Perhaps that person made their own children grow up too fast, robbing them of a childhood. People like my dad are the people who lost their battles against demons and ended their time here too soon.
But by the very nature of God and his goodness, I was able to reflect on my dad's life but also appreciate the life I have been given. I am freed from all that horrible stuff in the past. I tell you this because, if you're like me, you can be freed of all that stuff, too. And if you're like my dad, you have a chance to feel the love and belonging that you desire. Seek out God. Open your heart to Him. Ask for help. Never give up. 
Yesterday, our family shared a beautiful, happy day. We felt blessed for so many reasons. While my father's life will always serve as a lesson for me, God has given me a clean canvas to paint my own life's work on. I am reminded of Psalm 51:10: "Create in me a pure heart, O God, and renew a steadfast spirit within me."
I made a big Thanksgiving meal and we watched a horrible Packer game, but we thanked God for it all. That is the lesson I have taken away this year, that He is good always and everything we have, everything we deal with, is a blessing.
BTW, I made a new dessert yesterday: Cranberry upside down cake. Ain't it purdy?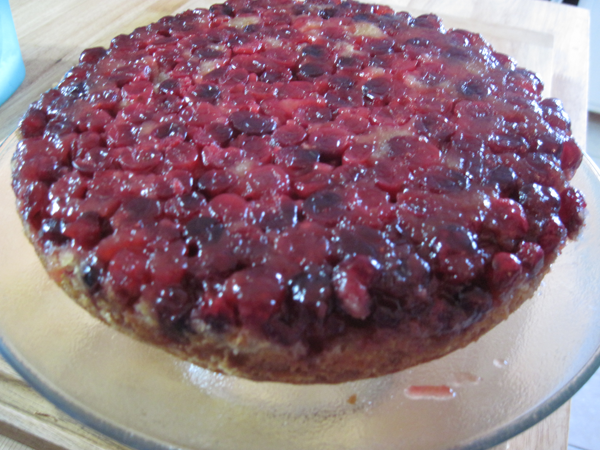 As I took a picture, my dog wondered why I was leaving her out of the picture: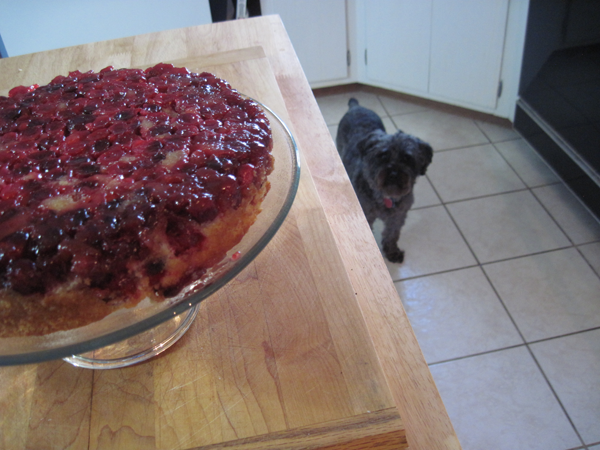 So I made sure to include her on the second one.
We had a wonderful day yesterday and I hope you did, too.
P.S. (Here's where I got the recipe.)