I've made Thanksgiving cards the last couple of years, but only a few. I send a couple to family members and one or two to some of the folks at church and that's about it. But I do like making them. I especially like using up things in the craft room for them.
So this year I decided to paint and collage a cross, then put that on a card with some stamping. I had a vision. First, the cross. I modpodged on a blank canvas. (Usually, I use an old canvas and just layer over it, but since I wanted to scan this in and cut around it I thought it would be easier to start with a blank one.)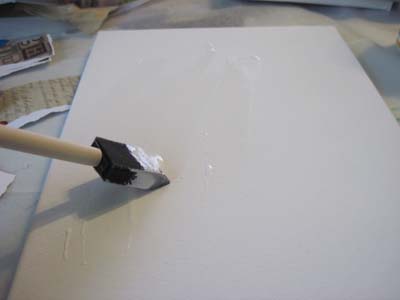 Then I placed some papers on there to start the cross.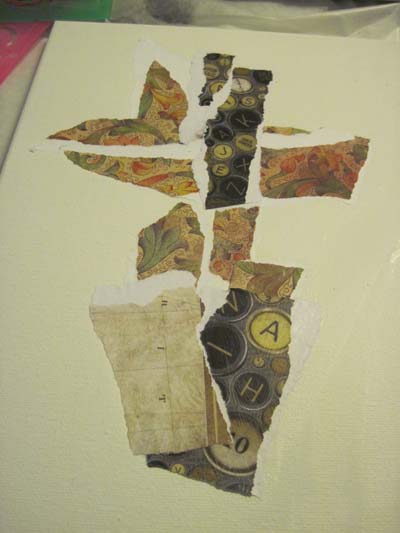 I painted over that and let it dry.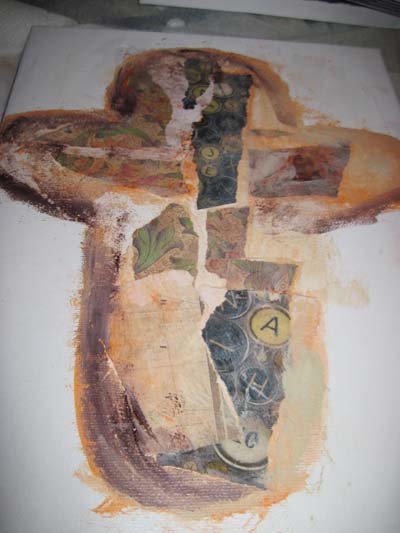 I added some music paper to the top of it. I got a really old book of hymns at a rummage sale and the paper is falling apart and wrecked and I just love it. The words are awesome on every single page.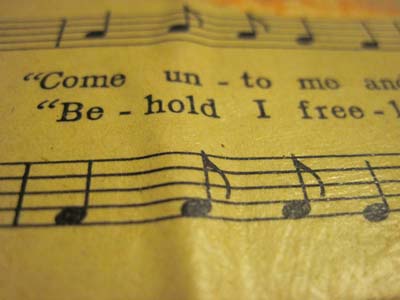 After that, I lightly painted over it to give it a cohesive look.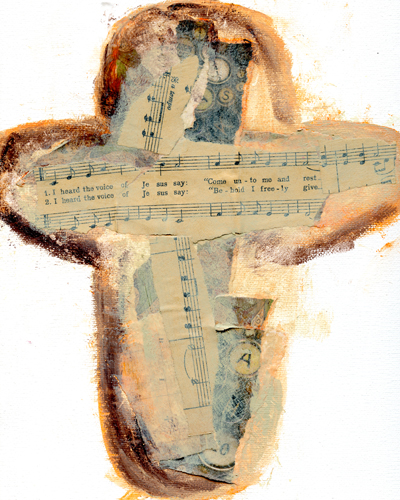 Now for the words. I've been thinking of this passage from Psalm 118: "Give thanks to the Lord, for he is good; his love endures forever."
I started by painting over a piece of scrapbook paper.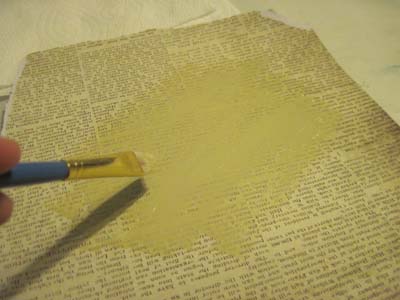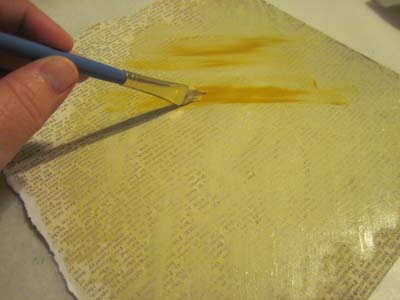 When I got it to where I liked it, I stamped and stenciled the words on.
Then I looked around to see what I had to put this stuff on. I found these old Avery notecards I bought eons ago to run through the computer. Except that for some reason every time I ran them through the computer they looked terrible, so I never used them. (But naturally, I held on to them.) They were off-white and worked out pretty well for this project.
First, I pulled together an old black doily as a background, then put the words on a piece of scrapbook paper and printed off a "his love endures forever" to place over it. I used a raise dot to place the cross.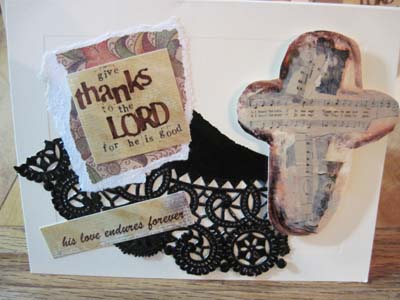 Didn't love it.
Next, I took a piece of that old hymn book and used that as a background, which I liked much better. Then I used another piece of that square "his love endures forever" paper and placed the main part of the quote on an old papercraft tag I picked up. I liked it better, but still didn't love it.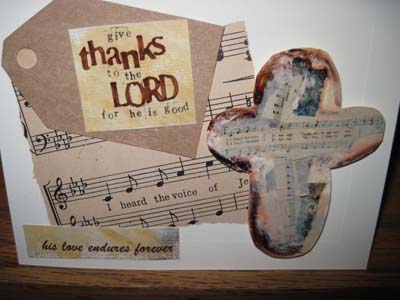 Finally, I left that square piece off and just kept the main words I stamped, the music paper, and the cross. Then I liked it.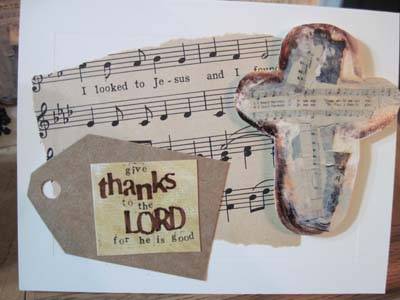 So now I've got a couple different versions to send.