You've heard me say this several times over the last several years: use your creative gifts. Your creative gifts don't have to be perfect (in fact, it's better if they aren't!), they don't have to be like anyone else's (again, better if they're not) and they don't have to be something huge. While it's great to work as a writer or artist, it doesn't mean that if you're not in those professions you can't be creative.
The term creative gifts comes from my aunt, who has told me this time and time again over the years. If I'd call and talk about my day at work, she'd say, "But are you making time for your creative gifts?" If I complained about a failed relationship, she'd tell me to work it out using my creative gifts.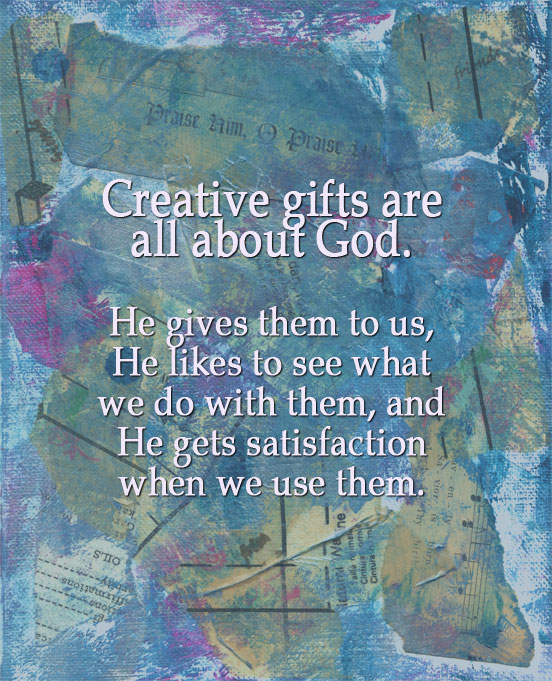 She didn't just mean writing or painting or crafting but whatever it was that moved my soul. Creative gifts are all about God. He gives them to us, He likes to see what we do with them, and He gets satisfaction when we use them. Believe it!
The existence of creative gifts is so big to me that I made them a special part of my creative planner. They're so big a part to me that if I go a week where I haven't used them in some way, I feel bad. This is important, because my normal mode is work work work. I love working, and have a hard time walking away. But being creative uses a different vibe. It allows me to play and experiment without an agenda.
One reason I regularly share works in progress with my art is because it shows you all that I'm not perfect, my art isn't perfect, and I'm always working on it. There are pictures I finish and like right away, and some that I put aside for a while and then something in them speaks to me later. There are other pictures that I go back to and redo.
Being a part of the awesome artsy bloggers group has really helped me with this. I get inspired by their creative works and then give myself permission to experiment and try new things. I'm okay with showing my growth as an artist, in part because these amazing ladies (especially June, Eileen, and Cyndi) are just so encouraging. They've helped me grow so much.