A couple years ago I signed up for the ACFW Conference, and then we had this happen: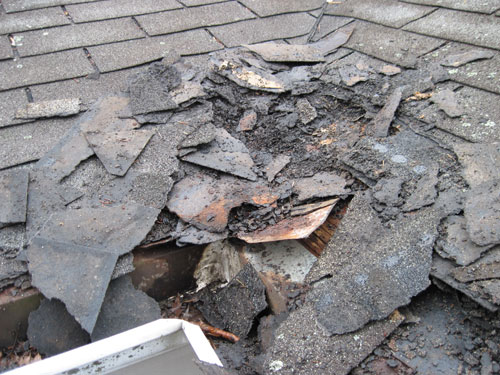 Raccoons ate through our roof.
And then this: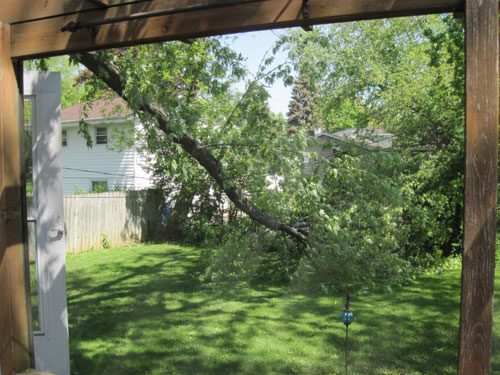 A tree that fell in the yard.
In other words, a trip anywhere just wasn't going to happen, we were full up with house repair costs. I was disappointed but I know God is at work in my life, and sometimes you wait for things.
In the last two years, I was given amazing opportunities in my freelance writing life and was kept very busy. So it wasn't until recently that I got back into my dreams of fiction writing. I've been working on some things, and decided this year I would go.
Can I Do This?
I'm not a "conference" type of girl. I'm a bit of a dork. Introverted. I enjoy meeting people and talking but it can get overwhelming for me. Luckily I met with the amazing, generous, wise Cynthia Ruchti before the conference and she gave me great advice. If I was feeling overwhelmed, I should go to the prayer room or find a place to chill out, get my bearings, and go back out. (It's an introverted thing – we love people but it drains our energy and we've got to recharge somehow.)
So I signed up, and what an amazing experience. I met so many cool people and came away with lots of ideas and inspiration. It was informative and socially rewarding on so many levels.
The Fangirl Emerges
I've been a writer a long time and have known a lot of other writers a long time, but for some reason I went all "fangirl" a couple of times at the conference. What is it about fiction writers that can make you become giddy, but when your friend hands you their latest book on dating or diabetes (to mention two of mine) you just go, "That's nice."
It's that fiction thing. You create a whole new world and it's pretty cool. So I went all fangirl on Jenny B. Jones, who was in the elevator with me and I blabbed about how I loved her and she asked me who I had appointments with and what I wrote. And did I say, "I've been a full-time working writer for eight years now"? No. I said, "Oh! I write romance. And women's fiction. And I just love your writing! I just… love it."
Funny how a writer can't find the words to talk when the occasional calls for it.
Jenny (as I'm calling her now, because we're totally buds… in my mind…) was totally gracious and lovely.
I also went all fangirl on Kaye Dacus, who was at a table with a friend of mine, and when I walked up to say hello to my friend could only say, "Is that Kaye Dacus? I love her writing. Do you think I should tell her? Would that be weird?"
Well, I'd already gone fangirl on Jenny (my bud) so I threw caution to the wind and gushed over Kaye Dacus, too. I've read every one of her books, but I got all crazy talking about one in particular (Turnabout's Fair Play
) and went on and on. It was truly dork-tacular.
Kaye (my other new bud… in my mind…) was also really gracious and seemed to take my gushing in stride.
Meeting a Friend for the First Time
The highlight of the conference for me was meeting my friend, Debby Mayne. Debby and I found each other years ago when we both worked for an online writing site. We became Facebook friends, and found out we had lots in common.
We emailed a lot… then called each other a lot… and now I consider her one of my closest friends. I was really curious to see how it was going to be to meet her in person. Would I cry? Would it be weird? Would we get along?
It was like we'd known each other our whole lives. We just hung out and chatted like we did it every day. Really happy that I was able to give her a hug in person.
Exhausted and Inspired
I knew the conference would be tiring, simply because I'd be going so far out of my element. But it was inspiring as well.
At one point I was at a service and just broke down in tears at all the amazing things God was doing in each of our lives. (I'm a crier in church. The Lord moves my spirit and that's how it comes out. The problem is, everyone thinks I'm sad when really I'm so happy that I'm bawling like someone just kicked me. I had a lovely writer pray over me during my crying jag. You don't get that at any old business conference, folks!)
We are blest to be able to do what we love and tell the world about God through our stories. We are so, so blessed.
I'll end with advice that Rachel Hauck (another favorite author of mine, although I didn't go fangirl on her – I did say "Well hi there!" like I knew her… cuz I do… in my own mind…) wrote in the ACFW Journal:
"Believe it or not, there is life after conference. Relax, love others, make the most of my day and relationships. Get to some workshops. Then go home and trust God to make something beautiful of my time and efforts."
Trust God? You bet I do.