The flea market was this past weekend, and while it was fun and interesting, it was a bit of a bust. No foot traffic. I think it's because it was over Labor Day weekend and also because there was the big Harley Fest going on in these parts.
So… live and learn. This was our first attempt at this and we made our money back but that was about it. There were things I really enjoyed about showing my crafty stuff, and things that were really were annoying.
Let's start with the positive.
I enjoyed:
Hanging out with the hubby while we people-watched
Chatting with people who liked my crafty goods
Having people buy things I had made
Looking at what other people were selling
Chatting with the vendors around me
Stuff I didn't enjoy so much:
Having crafters tell me they make the same thing but then pepper me with questions about how I got mine to (look so bright, stay together, look a certain way). If you "make the same thing" then you shouldn't need to ask questions about it.
People who took pictures of my items and booth and then boldly told me they would go home and make the same thing (without even buying anything).
Other vendors who stood in my booth blocking the way for people to come buy my stuff while they complained about their own lack of sales (Hey, buddy, I feel your pain… but move already.)
Getting up hours before the crack of dawn.
Getting asked about the glue, the glue, the glue! (People, if you're making these sculptures yourself, then experiment, try more than one, think logically, like it needs to be weather and water resistant).
Things that surprised me:
How fast the day went. (I envisioned a long day sitting there watching the clock, and it was anything but.)
How little people negotiated. (I expected people to ask if I could do any better on price, which is what I always do at flea markets, and no one asked me. They all paid what I wanted. Perhaps I priced too low.)
How the things that were not my personal favorites were the ones people liked the best. (You just never know, do you?)
The dumbest things people said to me:
"You stole my idea but I've never seen one like this." (If I "stole your idea" then wouldn't you have seen it already?)
"Where are these glass mushrooms from?" (Huh?)
"I'd love to buy this for my friend because she makes glass stuff but she'd be offended if I did."
Will I do one of these again? I might. I was surprised that my hubby was on board with doing another one, and if he wants to I know I'll at least have some fun. While it's hard to gauge what kind of foot traffic you'll have, I guess you just have to try a few places and talk to others.
The glass tile coffee table didn't sell, but as I mentioned when we made it I'd be okay with that because I had the perfect spot for it. Ta-da! Doesn't it look cute there?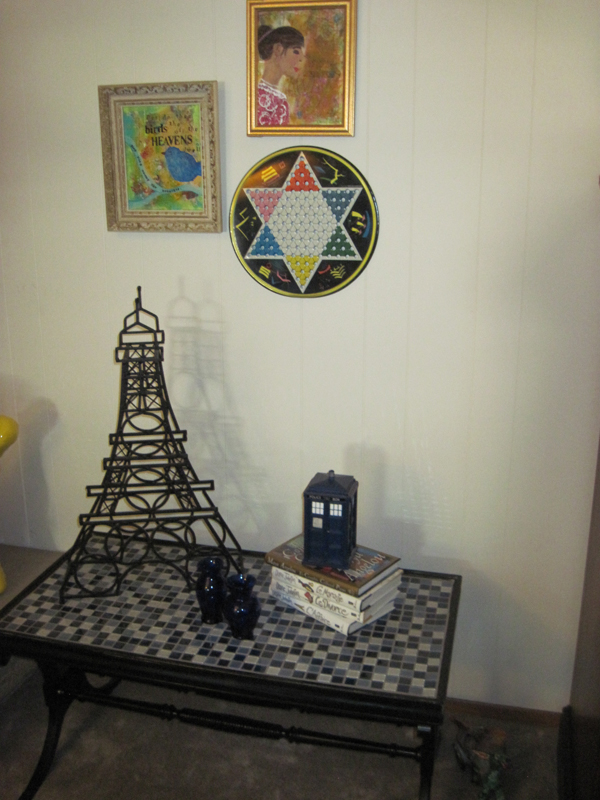 Here's a few more pictures from our booth: