I recently listed ten items I'm just obsessed with, but naturally I came up with ten more. It was a fun post and many of you wrote to me to tell me what you're groovin' on, too, so let's do this again. Here are ten more things I'm just wild about these days.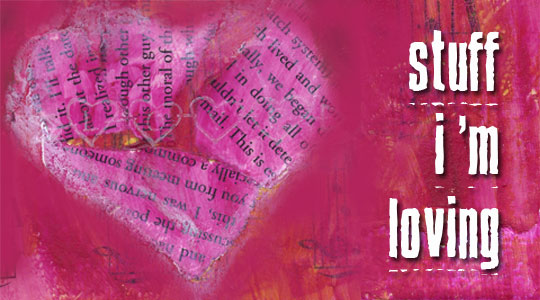 Sequence
We first played Sequence at a friend's house a couple months ago and it was so fun. It's a good party game because you can carry on a conversation while you play. It's also good for two people, though. My husby and I bought the game later and even playing just the two of us was fun. It's simple enough where you can play with a variety of ages, too.
We bought the regular Sequence game, but we've heard that the jumbo game is really cool, too, especially if you're playing it with a group.
Pluots
Have you tasted the pluot, yet? I love this little fruit, so naturally I had to look it up and see if it was as good for me as it was good to eat. Jacksonville.com said, "With 15 grams of sugar, pluots have more sugar than plums, providing a sweet flavor. The sugar is the natural form of fruit sugar, fructose, and fiber slows down absorption giving pluots a low glycemic index and load, keeping it a healthy option."
Isn't that nice to know?
One Thousand Gifts
I'd seen Ann Voskamp's One Thousand Gifts here and there, but hadn't picked it up until I took a book group type class where we studied it. Our group had mixed reviews about it, some felt it was a little too flowery and didn't have enough practical information.
Well, you know me. Flowery? I can handle that. So I enjoyed it and really got a lot out of it. I've always been good at being thankful for the little things, but this book helped me connect to them every moment, especially the ones we view as difficult.
Rehab Addict
I love DIY shows anyways, but Rehab Addict has a special place in my heart. Nicole Curtis takes old houses that in some cases have actually been condemned, and brings them back to their original glory. It's the things she reuses and how she restores each element of a house that really wow me.
The Bible Miniseries
Yeah, I know, I'm behind the times here. You all have probably watched The Bible already. I taped them all but didn't get to it until recently. But wow. WOW!  What an awesome project and really great TV besides. I'd heard that the series was nominated for three Emmy's and that's it also going to have a sequel that will air on NBC.
Nut Chips
These delicious chips are made from brown rice and almonds, and they are gluten and wheat free. They are great on their own or with a dip or peanut butter.
Mollie Makes
I do like craft magazines in general but this one always seems to have a little something extra in each issue. They usually give you everything you need for a small craft project in a little envelope right on the front, plus they have great ideas for food, decorating, and crochet.  They also have a crochet book that is on my wish list.
Carbonite
When my computer went haywire, my friend Debby recommend Carbonite. It's an online backup service and I love it. It's reasonable enough for you to purchase plus it's just a necessity if you're a writer or someone who really can't afford to lose your work. The first time you do a backup it takes several days, but after that it just updates seamlessly each day. Even when you do the first backup, you can still work on other stuff. Good program.
Lays Chicken and Waffle Potato Chips
Lays had a flavor contest recently, and my hubs brought these home to try. I didn't expect to like them, but I did. They're lightly sweet and then actually taste a little like fried chicken, too. They're salty and really addictive. But guess what? They didn't win the flavor contest so I don't know if they'll be available anymore. (Sad face.)
Fake Flowers From Goodwill
I've been finding some really good-looking fake flowers at Goodwill for so cheap. You guys, if you can't grow plants, you've got look for some of these. I have a big variety now and my patio always has those bright colors on it. I put them in planters so they look real. (Well, to me they do!) And I never have to remember to water them!