A lot of people ask me about my "Different But Equal" essay that won me a trip to New York years ago. I remember (about 1996 or 1997 I believe) that I was in the dentist's office, and saw a contest sponsored by Equal sugar. As part of the contest, you had to write an essay about a friend who was "different but equal" from you.
I ripped the ad out of the magazine, went home, pulled out a notebook, scribbled my essay (which was less than 75 words) and sent it in. I talked about my friend Laura, who, if you saw both of us together you'd wonder why we're friends. But we are. We're great friends. We've been pals from almost the first time we met and we've stayed that way for twenty years.
Laura lives in another state now, but we talk frequently on the phone. When I called her to chat, I mentioned casually that I had nominated us for a trip to New York. As soon as I said this, she screamed "We're so going to win that!" She was convinced from the beginning. She's got this "sense" sometimes. Anyways, I wasn't so sure that we had won, because I was still a "closet writer" and didn't think things like that were possible for me. You know? I had mostly negative stuff happen in my life at that point, so something so fun and positive? Seriously?
But it happened. I remember getting the call and I was so excited. I'd won airfare for me and for my friend (even though we were flying out from different states), a 3-night stay at the Waldorf, travel to and from the airport, and a year's supply of Equal sugar. Laura asked me for a copy of the essay so she could put it in her scrapbook, and of course I hadn't even kept it. We had to send in pictures of ourselves and I vaguely remember them appearing as part of a commercial (which naturally, I didn't tape.)
We could go any time we wanted, so I chose Thanksgiving. Laura had been to New York many times I'd never been there. We made a list of things we each wanted to do and then came together over the phone to share them.
Her list included:
Going to several bars and discos
Dinner in Little Italy
Three different Broadway shows
Shopping
My list included:
Seeing the Statue of Liberty
Going to see the Macy's parade live
Having a pint at an Irish pub
Brunch at Tavern on the Green
See what I mean about "different but equal"? She was so surprised at my list. She said, "Are you sure you want to spend time at the Statue of Liberty? That can chew up half a day."
But I did! I knew it was dorky and touristy but I really wanted to do it. And that Macy's parade? So not her thing.
But the thing about this different but equal deal is that you compromise. You figure things out. Despite being to New York many times, Laura hadn't been to the Statue of Liberty and never even considered something like the Macy's parade. She'd also never been to Tavern on the Green and had always wanted to do it. We talked through our options. We planned for some things ahead of time (like getting tickets to the Broadway shows) and put some things on the "if it works we'll fit it in" list. We were both flexible. We felt that we could do most of what we both wanted, if we kept up the pace. Who needs to sleep when you're in New York?
The funny thing is, I wasn't even thinking Broadway at first. I would have been disappointed if I waited until we got there to find tickets. Laura did that for us ahead of time, and we saw three very different shows, which each rocked in their own way.
We went to amazing dinners, discos at night, two different Hogs and Heifers, an Irish pub (where there was an exciting fistfight), shopping shopping shopping (we went to so many stores I get tired just thinking about it), delis, a traditional Thanksgiving dinner at the Waldorf, brunch at Tavern on the Green, and of course, the Macy's parade.
I remember the parade very vividly. On the plane ride out there I was sitting behind a guy who had his seat back so far, and I was nervous (first time flying by myself) and I asked him to put his seat upright, but because I was so nervous I kept yapping. I couldn't stop talking (something that happens when I'm nervous or feeling awkward) so I was talking about being excited to get to New York but having a sick stomach about the flight and a million other things.
The guy moved his seat to the upright position, turned around, and said, "What's your problem lady?" Very thick New York accent, and despite his direct (harsh?) words, I didn't get the feeling that he was being rude. I continued blabbling…. different but equal…. essay… Macy's…. first time…touristy….oh my is that the Statue of Liberty?….
I couldn't stop myself.
He never cracked a smile, but listened to every word. Finally he stopped me. "I'm gonna show you something. You hear me? Look out dat window." I did as he said. "See that view? We're coming in from a different angle. This is some-tin here, kid. You hear me? They don't usually take you this way. You get to see the Little Lady from a different side. Take it in, kid. Honest to GAWD these tourists. You guys. You see how beautiful dat ting is?"
I loved this guy. I still remember his thick, grey, curly hair. I was mesmerized by seeing the Statue of Liberty this way as we flew in. I was actually speechless. He gave me a moment, then went on.
"Okay. Now. The Macy's parade. Dis is what you gotta do. Are you hearin' me? You go to Central Park West tonight. Tell the cabby to take you to da place where they's blowing up the balloons for tomorrow. Do dis. I swear to GAWD, it's an awesome thing to see. You won't read dis anywhere. I'm telling you dis. Do it. You won't regret it. You hear me?"
I nodded, trying to remember what he said. When I landed I told Laura about the guy on the plane, and she said, " Let's do it!" You know what? Seeing those balloons getting ready for the parade the next day was so cool. I'm so glad that guy told me that.
And the Statue of Liberty. This was our "maybe" thing on the list. I really wanted to do it, Laura was okay with it since she'd never done it, but we weren't sure there was time. It does take quite a bit of time to do. You wait and wait as you go up the levels. But one of our days was a gorgeous sunny day where we didn't even need our coats part of the time (and this was November!) and I remember just taking in Lady Liberty and being so in awe of the view and the history behind it.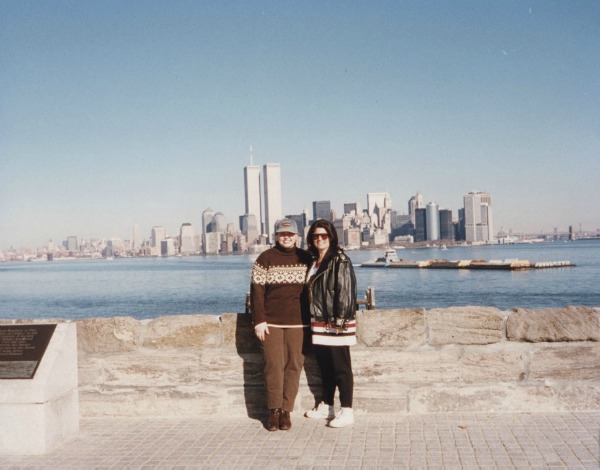 I mentioned once before that now, this picture that we took from the Statue looking back to the City gives me chills. I think about that sunny day we had and it was the same clear blue sky that existed that terrible 9/11 day. Seeing those twin towers behind me makes me think of all those lives that were lost.
On the ride to the Statue, we took the ferry and someone snapped our picture.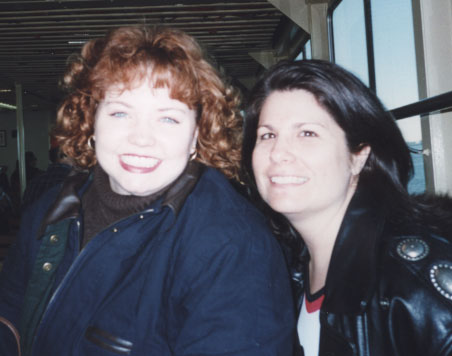 See what I mean about different? We don't even look similar. (This was in the days before I discovered the amazing straightening power of a good blow dry brush. You can see now why I chose to wear a hat for most of our trip.)
My trip to New York was definitely a highlight in my life. I still remember the time I had as a whirlwind of busyness and fun. And to think that it came about because of something I'd written was just icing on the cake.