Update: August 8, 2013: The Creative Planner is done and you can get it here
!
Hey friends! thought I'd give you an update on this Creative Planner I've been working on. Wow, what a couple of months it's been. I've been slogging through technical problems right and left in just about every area of my career. Crafting is the only saving grace to this stress. I'm gearing up for my craft show next month, making monster scarves and other stuff, but in the meantime I was also able to finish my Creative Planner.
At last I left you (in June) I said it was "so close" to being done. It was. But then, I had a few problems. Or should I say, the people that were printing this little diddy had a few. I even had a few pictures of the prototype (below) but when it came time to printing this thing they couldn't manage it. I've used this particular printer for many years and it was all kinds of frustrating to work with them on this. YOINKS!
Not one to dwell, I moved on. Went to another printer, and this time I had them do up a spiral bound book. The spiral bound book was such terrible quality I couldn't put my name on it.
What to do…
I decided to try Amazon's CreateSpace. I have a lot of friends that have used them and of course we've all heard the stories of the big-time authors that have used them. I gave them a try.
After years of setting up my own books and designing my own covers, I was amazed at how easy it was to work with CreateSpace. Some of the complaints I've heard about them involved set up, and I have to say this was no problem for me, but again, I've been doing this for ten years.
Ah, but would the prototype be of good quality?
YES! I am excited to say that prototype turned out great. I decided to go with a paperback in this case to keep the costs down, and have been using my own personal copy of the Creative Planner every day. It's like a part diary, part gratitude journal, part day planner for me.
Nice to finally finish this project! You can pick up your copy here. Amazon also has a nice "view inside" feature which allows you to look through it to see if it's something you're interested in.
On to the next publishing adventure….
______________________________________________
I'm so excited! I've been wanting to make a planner specifically for creative people for quite a while. It was one of my goals at the beginning of the year, and I'm finally getting it down to the last little fixes. It's close! So close, that I can give you a sneak peak and tell you that I aim to have this up and available for sale by the end of the month.
The whole thing started because I could never find a planner that fit what I wanted, which was:
A place to write my weekly appointments
A place to write small weekly thoughts about gratitude
A place to keep up on my goals – doing the small steps to accomplish the big things
A way to remember to use all my creative gifts
That last one comes from my aunt, who has always reminded me to "use my creative gifts." She's said it so much, it's become part of my vocabulary. I've found, especially with my artsy bloggers group, that sometimes a week will go by and I haven't done anything new creatively (beside write). I want to continue to do new things, and the artsy bloggers has been a good reminder to do something new, photograph it, blog about it, share it. I'm always shocked when a week goes by and I haven't done anything new creatively.
That's why I wanted a place to acknowledge your creative gifts in the same space you use to write the other goals and appointments each week. And rather than have several different books for all these things, I wanted them in one.
There's a bunch more reasons I'm excited about this Creative Planner, and I'll be sharing those as the creating and publishing process finishes up. For now, a sneak peak: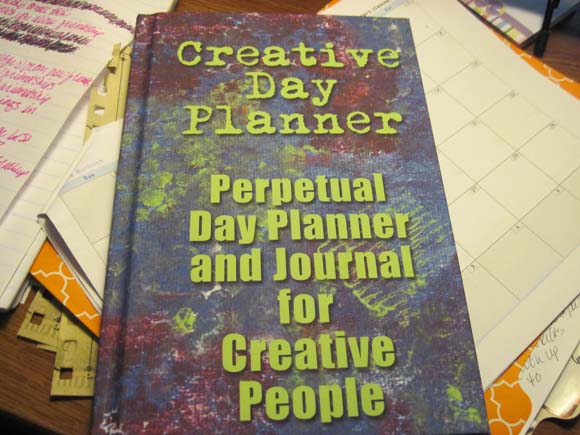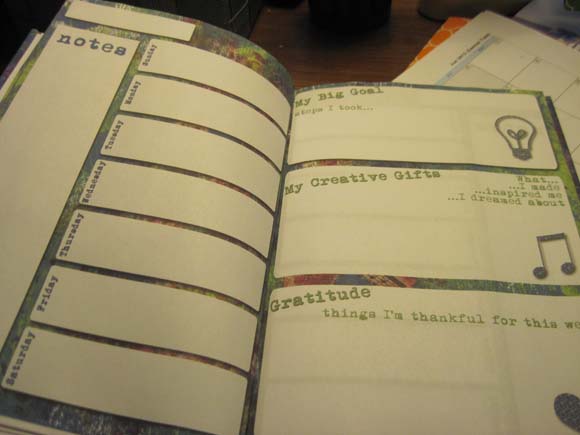 >