Back from break! What a nice thing it was to just let go and take some time off. Haven't done that in years. As a freelancer, you don't get much of a chance to do it. It's like any business you start up, you need to be there to keep it going. After seven years I finally did it. Yay!
One of the things I was determined to do was stay off the computer as much as possible. I had to log on and do a few things here and there, but I made sure to log off right away again. Since I write online most of my time is spent on the computer and social networking sites, and it was nice to get some time away from all that.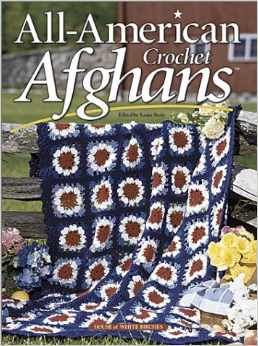 So what did I do? Enjoyed time with family. Listened to music. Played games. Caught up on Downton Abbey… all the things you'd expect from a staycation. I also did a little crocheting.
This past summer, we were at a rummage sale and DH spotted this afghan book, All-American Crochet Afghans
for $1. For a hardcover pattern book. Not bad.
I don't know about you, but I have a hard time finding pattern books for crochet these days. So I picked it up, and spotted a pattern I wanted to try. The afghan also has flowers on it that I still have to make (hence the "Part 1" title here) but here's where I am so far. I started making a few squares here and there in Fall but then really worked on finishing this during the holidays.
I wanted to add more teal and blues in our living room. We have a lot of dark colors in there now, and not too long ago we picked up a cute Sticks mirror cheap at an auction: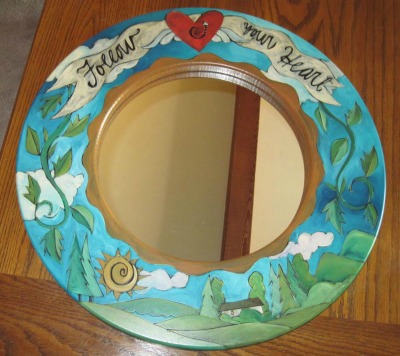 and I wanted to make an afghan that had some of those colors in it.
BTW, are you familiar with Sticks? They make such cute stuff, all with a positive message. I like artwork that does that.
Back to the afghan, I choose two alternating colors initially, a dark teal and this fun variegated yarn. I'll make the flowers from some of the colors that are in the variegated skein. (I can pull these from my "stash." Don't we love it when that happens?)
In the meantime, I made some squares and sewed them together.