HAPPY THANKSGIVING!
This weekend we went to the Holiday Folk Fair, which is one of my favorite events around town. And that's saying something, because I have a lot of favorite events around this city. There's something about viewing all the different ethnic groups that have come to this city that makes me feel very happy and at home. My personal family history has a variety of ethnicity, from the very popular (in this city) German to Slovak. DH has a variety in his family as well, and then there's the whole adoption aspect to things which adds an interesting wrinkle. Since I don't know the full heritage of my DNA, I like to make it up. (So on St. Patrick's Day I'm 100% Irish, baby!)
Regardless of what's in my DNA, I know a lot about certain cultures because of how I grew up. One of my grandmas was Slovak, so not surprisingly I was really drawn to that area of the fair. The booth's colors and trinkets really reminded me of her house. And the food rocked, too! I got this poppy seed thing that she used to make that is really, really good.
The bakery at the Slovak booth was awesome. I like food that is "pretty," don't you? It makes you not want to eat it, but just take pictures of it, which is what I did with these: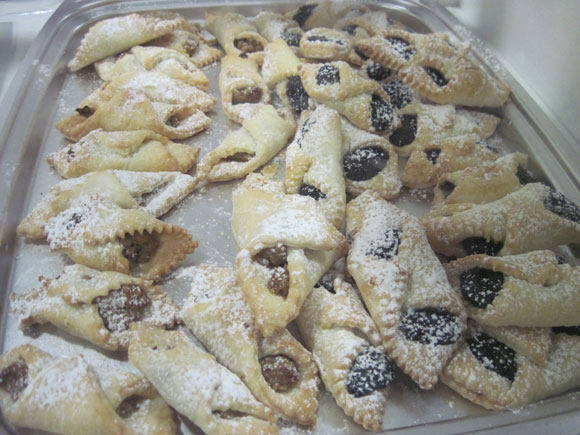 My grandma made Kolaches, and once I tried to make them a long time ago. It was years ago when I wasn't as experienced in the baking department as I am now. I was more of an average baker back then, making things like banana bread and cookies. You know, the average Wisconsin bakery stuff. This wasn't complicated but as I remembered I made the dough a little too puffy. I should try and make it again. Then again, do I have a recipe? No. (She was really bad at handing down recipes. My aunt also is an awesome cook but has the recipes "in her head." Doesn't anyone in this family write anything down?)
You'd think this was really sweet but it isn't, which is one reason I like it. These cream-filled horns were really light and just melted in your mouth: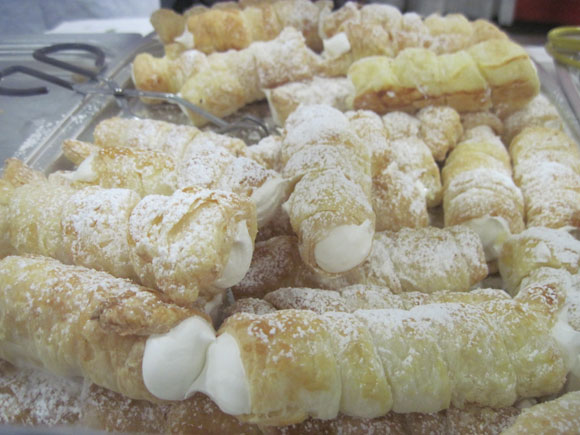 They aren't at all like the hard and too-sweet version you see in the grocery store. They were made fresh.
Then I saw some corn husk dolls, and I got to show my hubby how I used to make these as a girl. It brought back memories.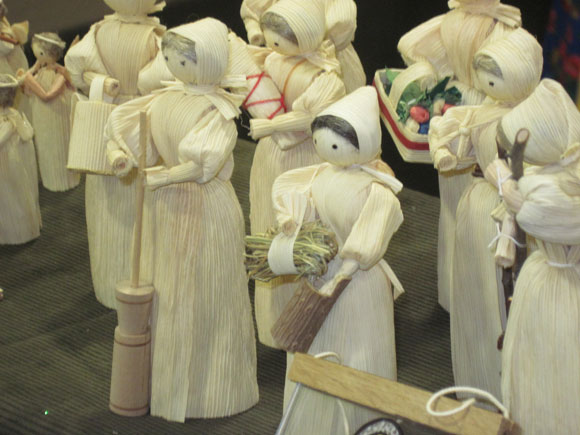 Finally, I saw some St. Nick ornaments that reminded me of my grandma, so we picked one up for our tree. The colors and old-fashioned St. Nick are really charming, aren't they?
This is always a hard time of year for me, so it was nice to be surrounded by the colors and flavors of our family heritage. We sat and talked about things we used to do in our childhood and it was a really fun day. Felt like Grandma was right in the room with us.