When my husband and I got married and consolidated our stuff, he asked me which kitchen chairs I'd like to keep. He had a couple sets, one that his roommate bought at Goodwill for $5 a chair, and one that was more modern. I think it really surprised him when I wanted to keep the older chairs. From the design, they looked to be from the 50s, and at the time they had this groovy puce color on the seats.
The reason I kept them is because they were cute, comfy, and seemed to be made better than the newer chairs. At the time, I showed my hubby just how easy it was to change out the seats of the chairs. In fact, I think we did it in about ten minutes and using scraps of what I already had on hand. The puce turned into blue and white check: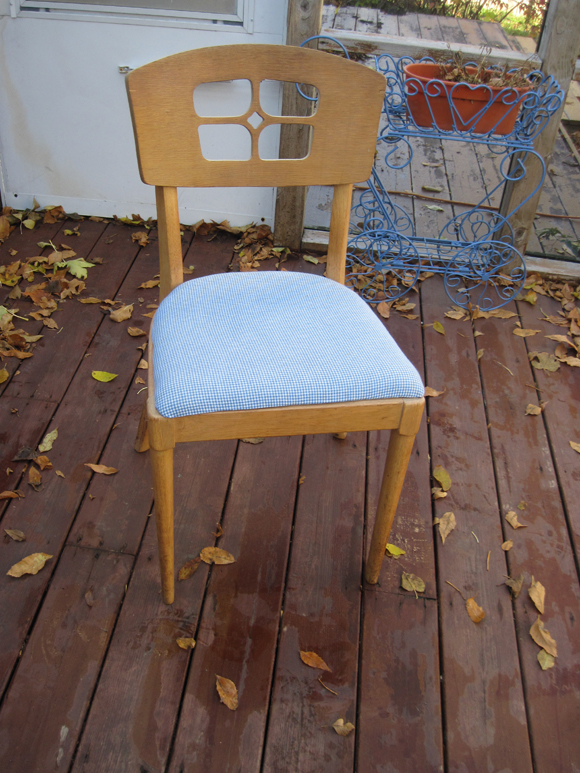 They went with the colors in our kitchen, but lately I've felt like it was time for a makeover. The chairs are still in great shape (still comfy!) but they just need some refreshing. I've been looking for fabric that could go on the seats, but I just couldn't find anything relatively cheap that I liked. And then, I stumbled across this Dr. Who toile pattern from Spoonflower: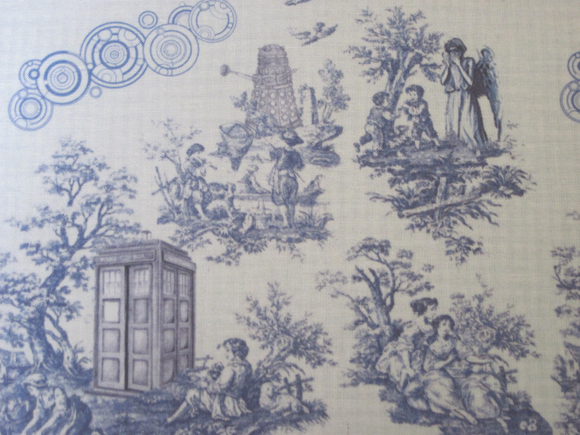 Isn't it the cutest? As a DIY-er and geek, I loved it. DH is big on Dr. Who, and I just thought the way they incorporated the Dr. Who elements was so clever.
Take a look at that angel, doesn't it look like it was meant to be there?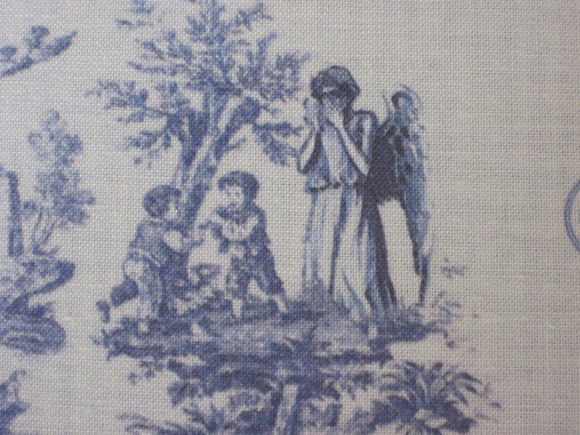 And the daleks…
and police box.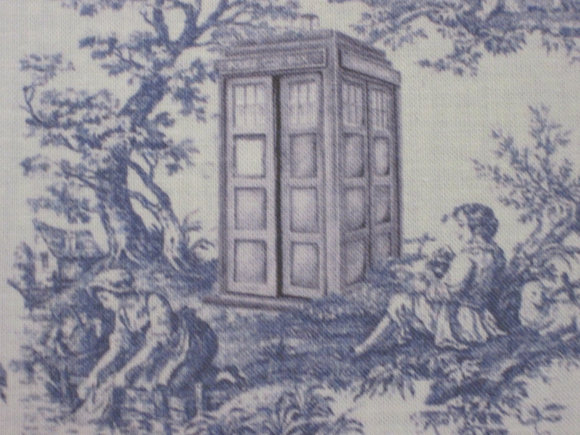 DH really liked the fact that they included the doctor's name: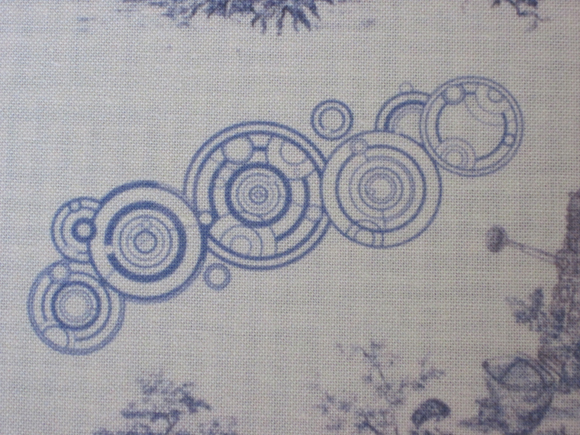 So cute! I thought it would be a fun way to jazz up the chairs. But they also need a fresh coat of paint. We decided on a blue color, which (as DH pointed out) is almost Tardislike in shade. Our kitchen is blue, so hey, it all goes.
Now for the work to begin. Have you ever done a chair makeover? It's so easy it's ridiculous. I'm telling you, if you've never done one of these, don't spend a lot of money on kitchen chairs! Go to Goodwill, pick out some comfy, cute chairs you like and then paint them and put new material on the seats to customize them the way you like. Here's all you have to do.
Take off the seat over. Most times, seats are just boards held on with screws. Unscrew the cover and place it to the side.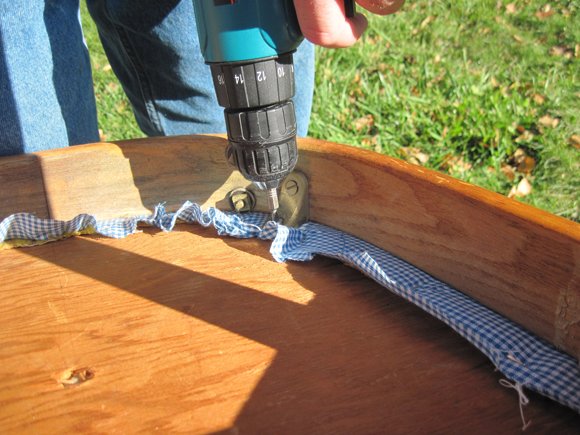 Then, put the material face down on the table with the seat over on top of it. (The side you sit on should be back to back with the wrong side of the material.)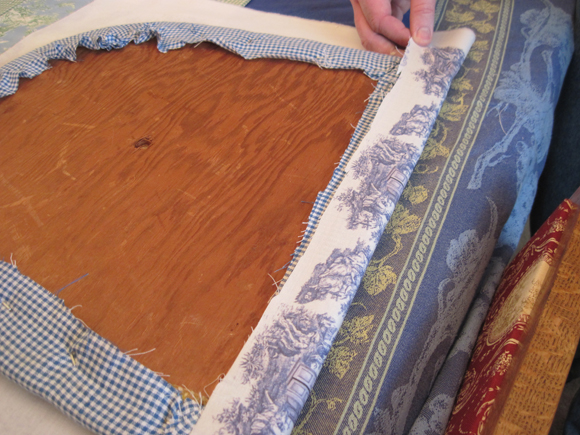 Then, staple in place all the way around. If the previous layer of material is thin enough, you can even staple the new stuff on without taking the old material off.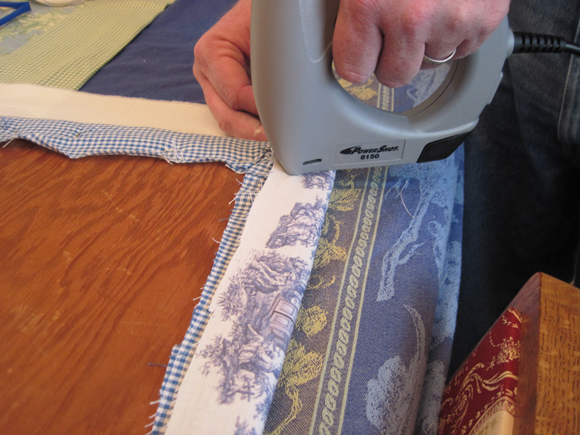 Make sure the material is straight (especially important if you have a pattern on it) and that there are no creases.
If your seat has a curved edge like mine had, just trim off some of the excess material after you get it all stapled.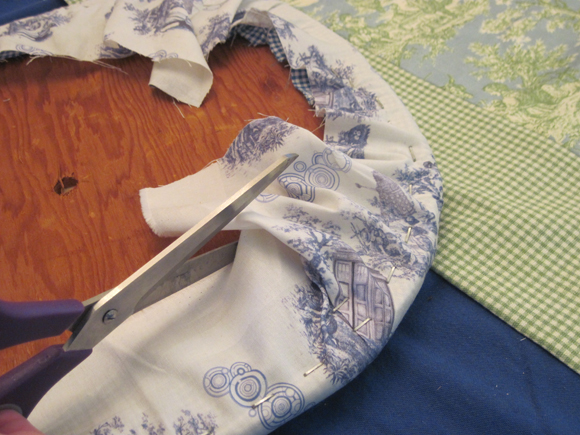 Ta da!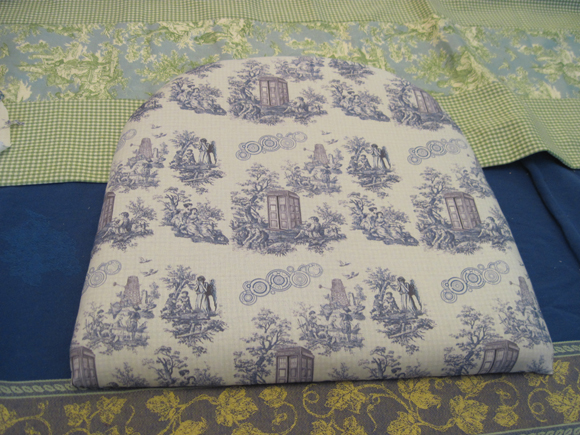 In the meantime, spray paint the chairs. We used Rust-Oleum satin in blue
.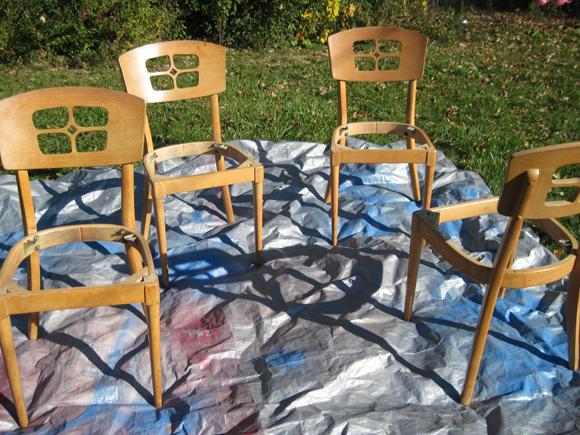 Let the chairs dry (it took ours several hours) and then you can reattach the seats.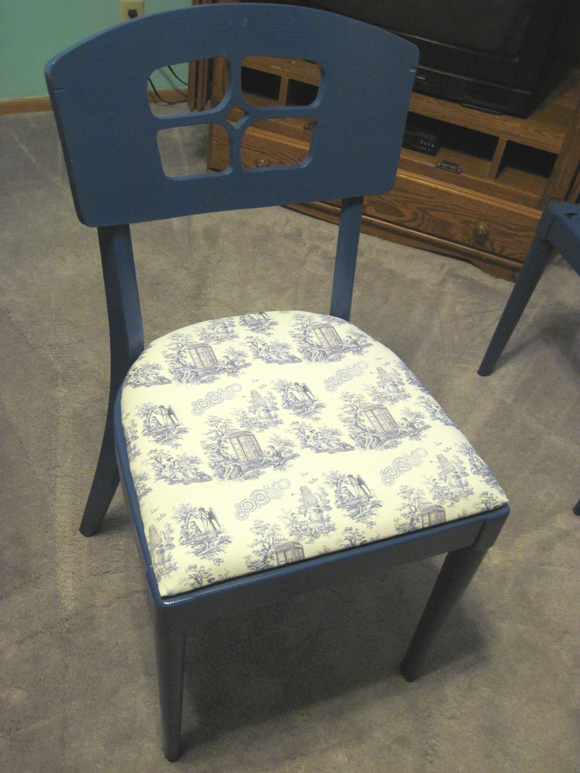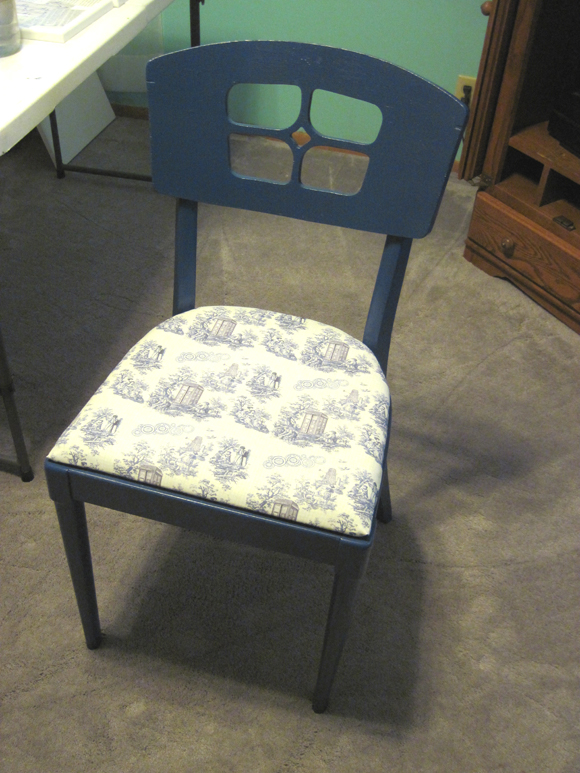 Viola! Are they fun or what?