You know me, I love estate sales. I'm a bargain shopper by nature, plus I really like re-purposing old things. Recently I found a set of table and chairs that I couldn't pass up. The downside (if you can call it that) was that they were in desperate need of some renovation.
I wasn't actually looking for a set of table and chairs, but was recently at an estate sale where a set was marked for $160. It included six chairs (yes, six!), those protective toppers, the table, and three leaves. The thing is, we sometimes have enough people over where we are crowding around our tiny table, or where we have to drag a craft table and try tacking it on to the end of our dining room table, so I liked the idea of the three leaves.
The table had all kinds of stuff piled on it, but I could see that it was in great shape.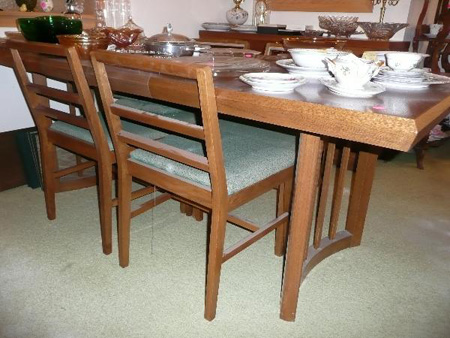 Still, I didn't need a table. You know? But then I found out the estate was having a 50% off sale the next week. I talked with DH about it, and he said if it's still there the following week we should definitely get it. (He always encourages me to spend the money. Isn't that funny?)
Well guess what? It was still there! So we got it for $80! I think part of the reason it was still there was because they had partially removed part of the table backers, and people sometimes don't know how to fix those things. They are very simple to recover, so if you ever see a deal like this you should go for it. Plus, when you recover you add your own personal style and fabric.
First things first: I had to rip off the old fabric and batting. This is another tip when you're redoing chairs. If you have allergies, it pays to put new batting on the chairs and take off the old. I had to have DH help rip off the fabric because it was really on there. But use a pair of gloves if you have to do it yourself and it usually comes off pretty easily. When I was done, here's what I was left with: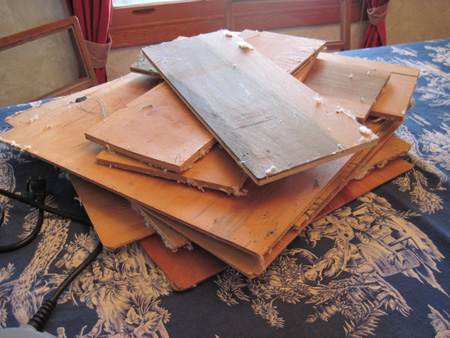 A pile of boards! The other thing I like about recovering chairs is that you really get to see how furniture is made. Normally, a set of chairs just has the seat covers to do, but this particular pair also has a small backing. You can see the backing with the smaller boards in the pile.
To begin, place your board on the fabric and cut out a piece. Leave enough room to allow for the batting (if you're using it) and to help make sure it goes snugly all the way around.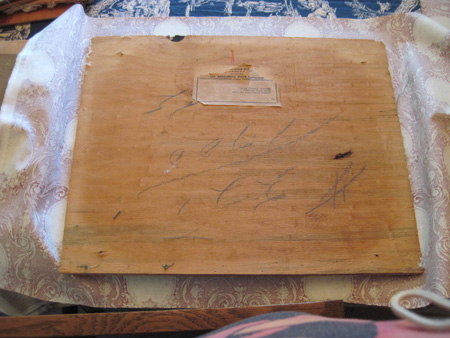 For the batting, I chose stuff that was thick and on sale. (It can be really expensive.) Don't skimp here (because without it your chairs won't be as comfortable) but do watch for sales. I got it 40% off at JoAnn Fabrics.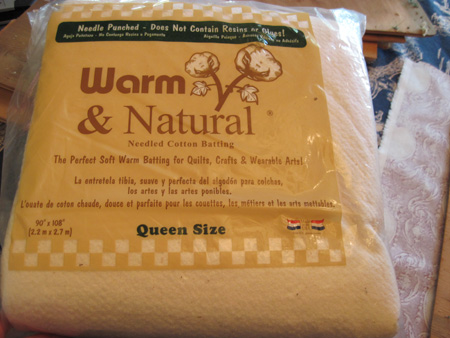 Then, cut the batting to the size of the material. (I used two, double folded pieces.)
Then, start stapling the material onto the back of the board. Because I was using so much batting, I wanted to secure it with staples before I even did the material. Make sure both the batting and material are stapled down. (Otherwise the batting will slide and bunch up when people sit on the chairs.)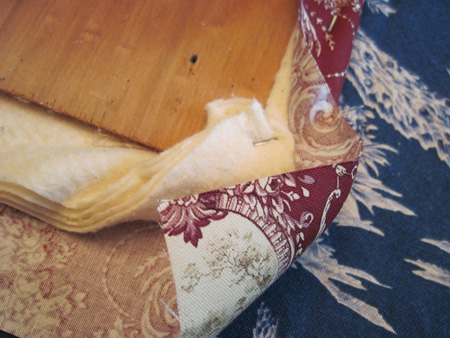 This bunch (the material and batting) were very thick. I put all my muscle in it, plus I had an electric stapler. Normally, this would have worked out fine, but I needed some extra (DH) muscle power to help me.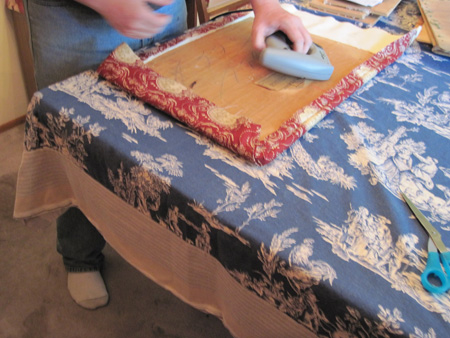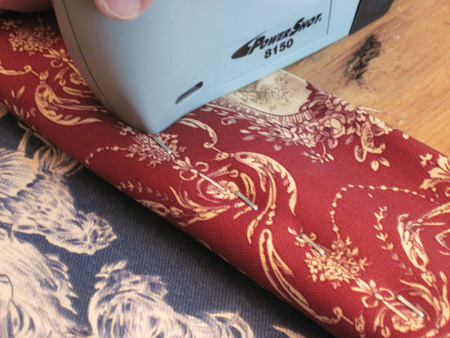 I got the bottoms done, and need to do the tops this week. Here's an idea of what it will look like when it's finished: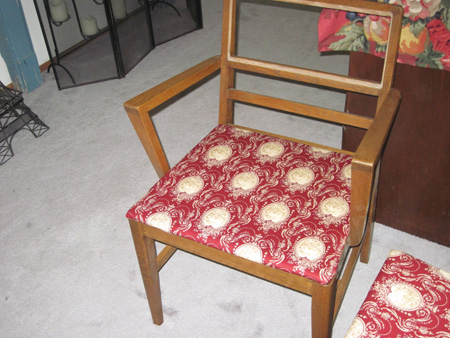 One more thing, if you are using a pattern (like I have here) make sure you staple the material on straight and that each chair has the pattern going the same way! (Can you tell I've failed to do this in the past? LOL) That's what I'm here for, to share my past mistakes.
Next week I'll show you how I finish the backs and also attach each of these to the chairs.