Every Halloween, DH works at a haunted house, which he dresses up for. Me? I'm not so much into Halloween. I know, I know…. people love it. I'll and participate in my own way by baking scary looking cookies or making costumes, but I really don't care for the whole thing to be honest.
Last year DH found the pattern for a Yip Yip costume online, and gave me that pleading look: can you make this honey? Pretty please?
Of course I said, Sure, honey! So off to the fabric store we went. This costume could have cost a pretty penny, but we found a cheap way to make it. The whole thing cost under $25. We deviated from the instructions on some things like the eyes on top, mesh, and material. But the costume turned out really sa-weet! Even up close, you couldn't see his eyes or face, yet he could see out.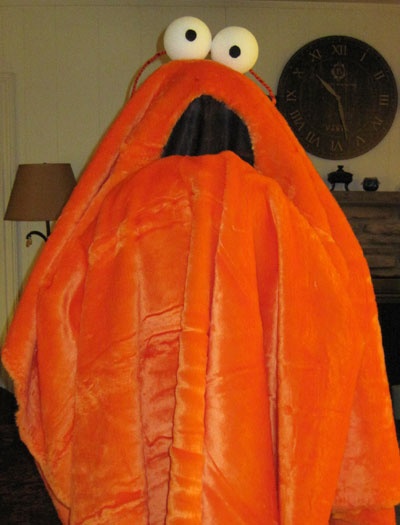 The one problem was that the material was too thick to run through the sewing machine. I ended up hand sewing the mesh into the head, but the great part was that I only had to half-sew up the sides because of the large piece of fuzz material we got. All in all, though, a pretty easy costume to make.
The Yip Yip, in case you are unfamiliar, were those alien thingy's from Sesame Street. Here's a clip of what they looked like:
The costume allowed my husby to move the mouth back and forth, so his yip yip yip yip imitation looked great. A tip if you're making this yourself. Buy a large piece of fuzz, because you will actually have to sew much less. A larger piece will drape more eventually over the body and act as a "cape."
Hand sew the mesh inside, and be sure you fold down the inside edge so it's finished. This also helps the mesh stay in place.
Be creative with materials. Take a look at what's in sale at your fabric store. For example, the material that would have been perfect for this costume (because it was thick and really shaggy) was actually $20 per yard. Instead, I used a less thick, more velvety like version for $4.45 a yard. When the costume came together, you noticed the overall product and not how shaggy and thick the material was. Also, check out the various mesh products available. Some of them are wildly expensive. We found a less thick mess that actually worked better, because it was so cheap we could afford to buy more of it and then double it up.